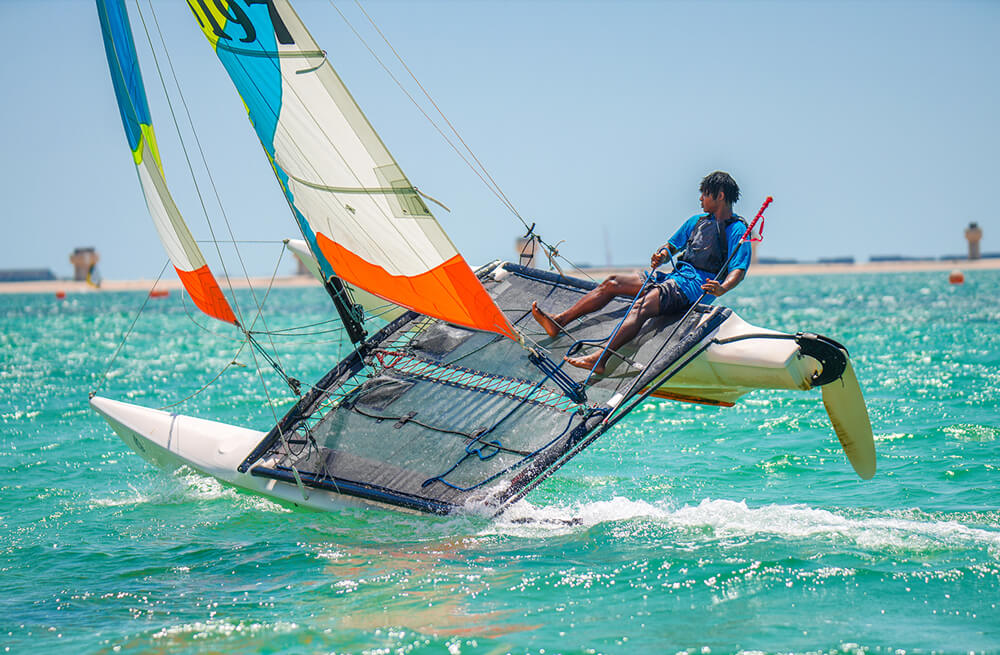 If you are new to the sport, there is no better way to learn than a Level 1 Start Sailing course. This 2 Day Course covers all the essentials to get you off the beach and into a boat in no time. The course introduces a range of skills, from wind awareness, sail settings, basic sail controls, steering the boat and turning the boat with tacking and gybing.
Classes are taught on a instructor to student ratio of 1:6, allowing for hands on tuition. The course is primarily practical based, with some short theory sessions done ashore and afloat. This introductory course will set you up perfectly to continue your training and development in sailing.
For those who have completed the Level 1 course, or have some boating experience in steering and controlling the boat, the Level 2 Basic Skills course is the next step. This 2 Day course is designed to build upon the skills introduced in Level 1 with an aim to increase a sailors confidence, and move towards sailing unassisted by an instructor.
The Level 3 Improving Skills course requires a sailor to be of at least a Level 2 standard, and have been sailing regularly in the period before taking the course. This 2 Day course builds on the fundamental skills learned in Level 1 and 2, focusing on improving a sailors understanding of the 5 essentials of sailing, and applying them consistently while underway. The course places an emphasis on understanding some of the background theory of sailing, and using it in a way to increase the sailors efficiency.
The advanced sailing courses are designed for sailors who have completed the Level 3 course. These modules focus on individual areas of sailing, allowing the sailor to choose a course that best suits their style and interests.
The Sailing with Spinnakers course introduces some more advanced use and handling of spinnakers, building a sailors confidence.
Seamanship Skills builds on a sailors boat handling skills, and is a great course for boosting core skills and applying them to different situations.
Start Racing introduces the fundamentals of racing theory and practice, introducing rules, starts, and applying the 5 essentials.
Performance sailing focuses on trapeze, spinnaker and advanced sailing techniques. The course pushes the sailor's skill and boat handling abilities.
Sailing Private Lesson (1HR) : AED 395
RYA Standard Sailing Lesson (10HR) : AED 2950
Boat rental PICO (30min) : AED 180
Boat rental PICO (1HR) : AED 220
Boat rental H12/FEVA (30min) : AED 200
Boat rental H12/FEVA (1HR) : AED 260
Boat rental VISION (30min) : AED 230
Boat rental VISION (1HR) : AED 295
Boat rental HOBIE (30min) : AED 230
Boat rental HOBIE (1HR) : AED 295
Boat rental RS 500 (30min) : AED 230
Boat rental RS 500 (1HR) : AED 295