5 Star Water Sports in the UAE
WATERCOOLED ARE THE PREMIER WATER SPORTS PROVIDER IN THE UAE.
With multiple locations, Watercooled's internationally recognised training centres, and professional, qualified instructors have got you covered no matter what watersport you want to do.
If you want to learn, rent, or just chill out on the water, come find us on the beach…
SAILING
If you are interested in learning to sail, or if you are already an accomplished sailor, Watercooled have got you covered.
With rental available on our full range of sailing boats, from monohulls to catamarans, beginner to advanced, it has never been easier to get on the water in the UAE.
Each Watercooled club house is an Internationally Recognised Training Centre, providing both youth and adult schemes and a full range of certification, so you can arrive as a beginner and leave an expert.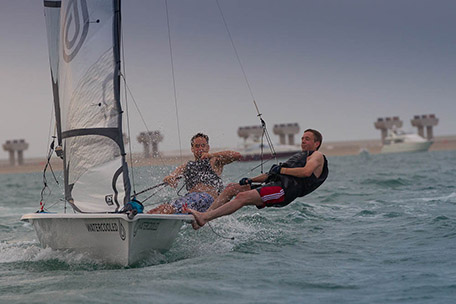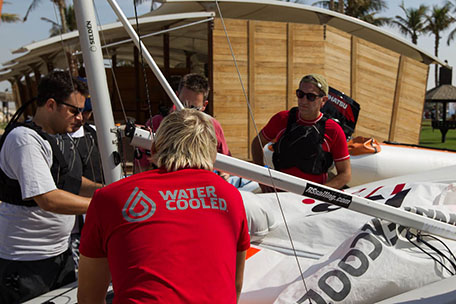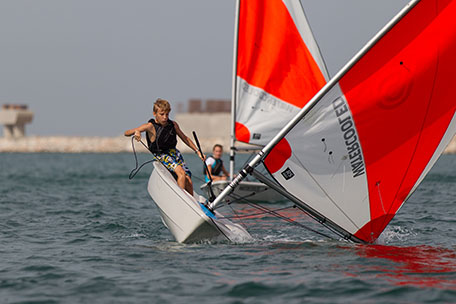 Boat Rentals
Watercooled have the largest range of dinghies available for rental in Dubai and Abu Dhabi, from singlehanded trainers, right up to high performance skiffs and catamarans. No matter what your ability, Watercooled have a sailing boat rental for you.
Sailing Courses
Watercooled provide a full range of both youth and adult Courses, provided by qualified and experienced instructors from our ideally located training centres in Jebel Ali, and the Abu Dhabi Corniche.
After Schools Activities
We have been providing after schools sailing courses since 2012. Having trained hundreds of young students in the sport of sailing, Watercooled are one of the most trusted providers to schools throughout the UAE. With courses running throughout the school term, as well as during holiday times, Watercooled sailing courses are always available for students.

WAKEBOARDING, WAKESURFING & WATER SKIING
The flat calm waters of the UAE make for the perfect location of tow sports. At Watercooled we have been delivering top class tow facilities and training since 2012. Join us at our wake centre at Jebel Ali, and enjoy one of the best kept secrets in Dubai, perfect flat conditions for wakeboarding, wakesurfing and water skiing.
Take a ride behind our Mastercraft X2, and receive expert coaching from our team of qualified instructors, even if you are an experienced rider you are bound to pick up some new tips and tricks.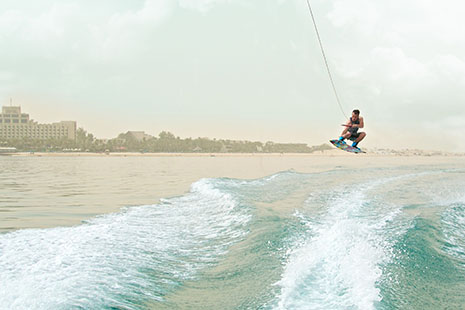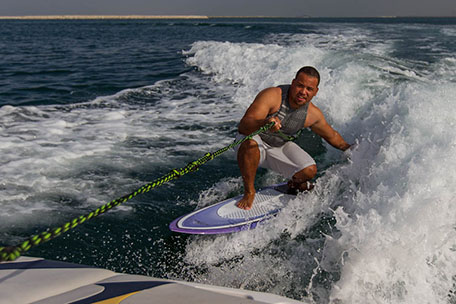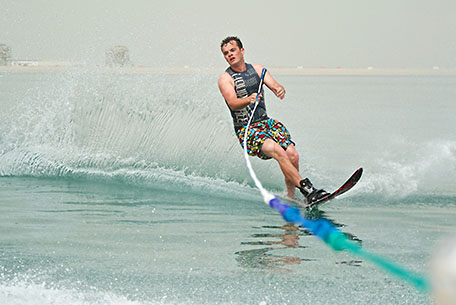 WAKEBOARDING
For beginners or advanced riders, we have all the boards, bindings and boats you need. With coaching available, you can be riding in no time at all, and for experienced riders, you can be learning new tricks and getting al the air you want.
WAKESURFING
Take a ride behind our Mastercraft X2 on one of our wakesurf boards. Our coaches will have you up and riding in minutes, leaving you with plenty of time to enjoy your ride.
WATER SKIING
The flat waters of Jebel Ali and the Abu Dhabi Corniche are two of the most secluded and ideal locations for waterskiing and monoskiing. Get up and riding with expert coaching, or if you are an experienced skier, get out wide for some carving, and enjoy our slalom course.
STAND UP PADDLEBOARDING
Enjoy the fantastic sport of Stand Up Paddleboarding (SUP) with Watercooled at any of our beach clubs. SUP is one of the fastest growing sports in the world, it is easy to pick up and is fantastic way to get on the water. This is a sport for young and old alike, and a great way to exercise.
SUP can be a solo sport, but we feel things are always better shared, so we have a regular schedule of group paddles and classes, including our exclusive Dubai Marina Stand Up Paddleboard tour.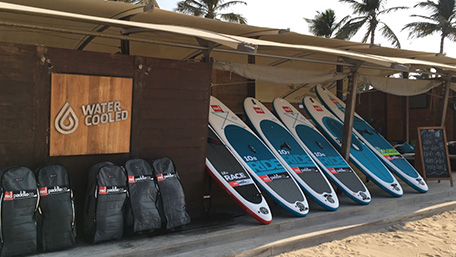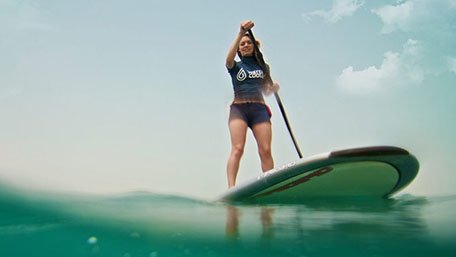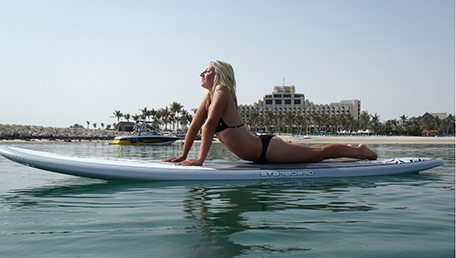 Paddle Board Rentals
Rent any of our great boards, ranging from beginners to touring and racing boards. Mornings are one of the most popular times to paddle board so be sure to book early.
Paddle Board Classes
We run regular group classes where you can get on the water with like minded people and enjoy your time on the sea, while learning and developing some new skills.
Paddle Board Fitness
We run regular group classes where you can get on the water with like minded people and enjoy your time on the sea, while learning and developing some new skills. Check out our Watercooled Blue Gym for more information.

WINDSURFING
Watercooled have been offering windsurfing rental in Dubai and Abu Dhabi since 2012.
As well as providing a range of top end and beginner equipment, Watercooled also offers storage of equipment to residents, so your kit is ready to go when you are.
Watercooled also offer a range of certified training courses for both youth and adult schemes, so you can pick up this fantastic sport.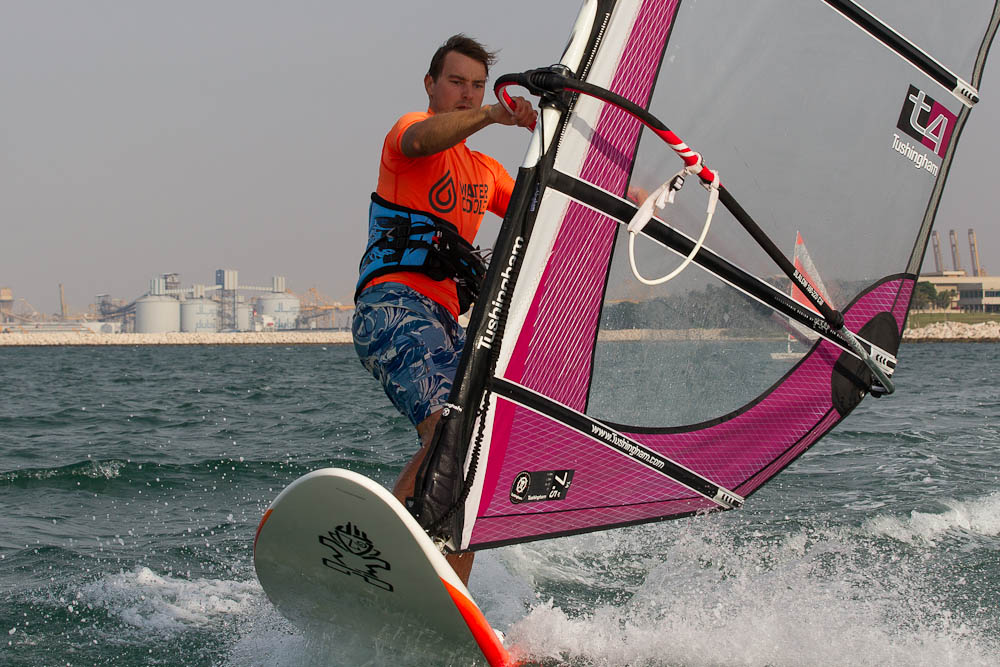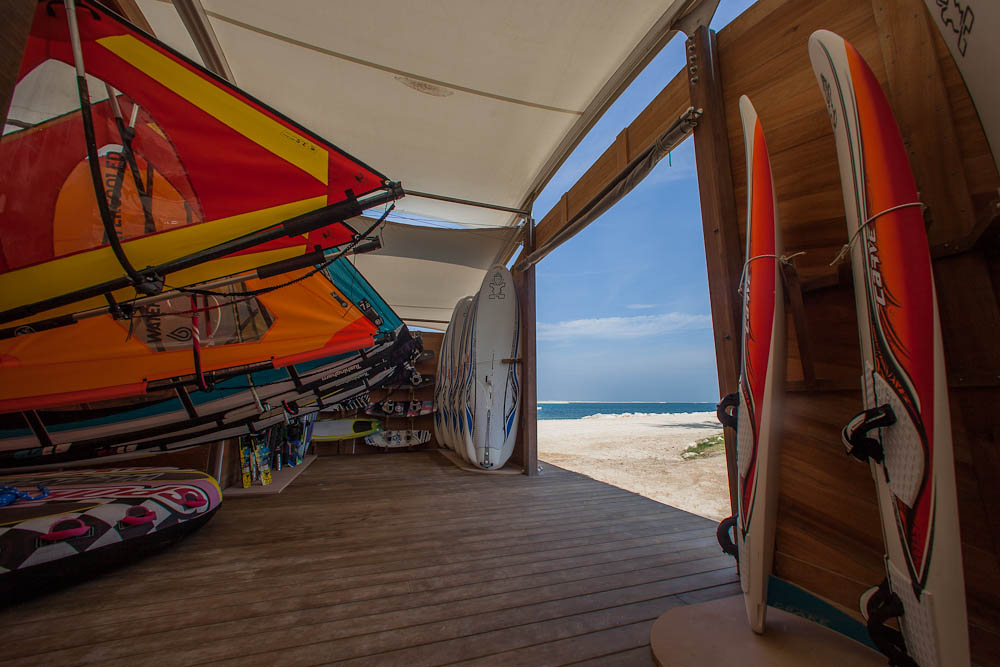 Windsurfing Courses
If you are just starting out, let our Royal Yachting Association instructors take you through the Youth or Adult scheme, to fast track you on your way to becoming an accomplished windsurfer.
Rentals and Storage
If you are looking to get out on the water quickly without the hassle of rigging up, then rent some of our kit, or alternatively ask our team how you can store your gear at Watercooled ready for you whenever you want it.
KITEBOARDING
Kiteboarding has exploded in popularity in recent years, and the UAE is one of the best places to learn this exhilarating sport. Jebel Ali Dubai offers one of the best Kiteboarding spots in the UAE, with a sheltered bay, free from busy traffic.
Watercooled's kiteboarding school at Jebel Ali, offers IKO training courses. Learn to kite board with one of our qualified instructors. Learn in a group class, or get one to one tuition in a private lesson.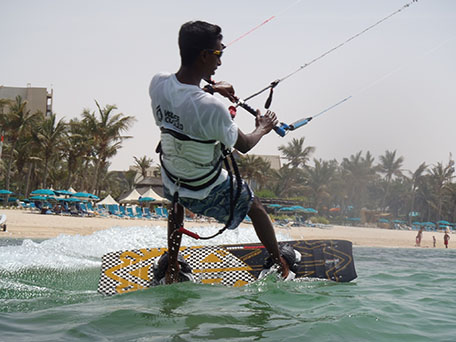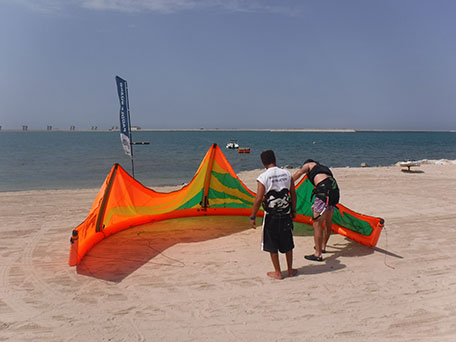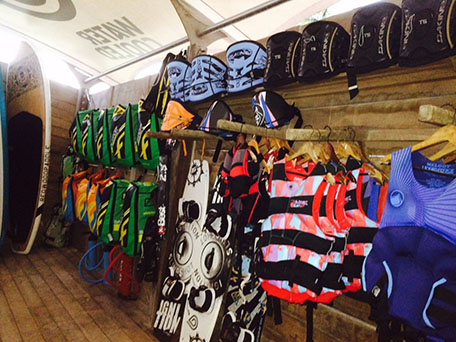 Kiteboarding Rental
If you are new in Dubai, here on holiday, or just stopping off for work, we have you covered with kites.
With a great range of kites from F-One, we have the kit to get you riding no matter the wind speed.
Kiteboarding School
As a recognised International Kite Organisation training centre, we are the perfect place to learn how to kite board.
Speak with our qualified instructors who will talk you through the best course options, and get you out on the water at the sheltered bay of Jebel Ali in Dubai.
Kiteboard Storage
Need somewhere to keep your kit? We'll store it for you, and when the wind comes up you can give us a call, we will pump your kite and prepare your kit so its ready to go when you arrive, so you do not waste any time on the water.
When you come off, we will deflate, wash and pack your kit, ready for you the next time.

TOW RIDES
There are not many things more fun than a ride on an inflatable donut! Donut tows are quick, easy and adrenaline filled. You do not need any skills to experience this much fun, you just need to hold on.
Watercooled have a great range of towable, including donuts, sofas and UFOs. We like to change our rides regularly, giving you a choice of experience each time.